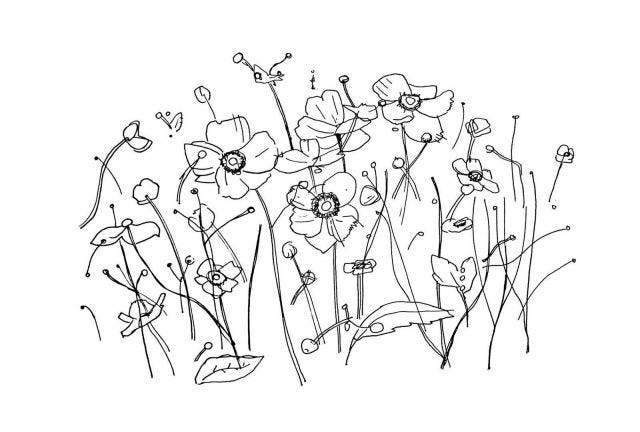 My friend is moving away tomorrow and I am designing gardens about it. I am a fantasist at heart but a fantasist of the most mundane: how I would design my house if I had a house that it was worth putting a lot of effort into—that I knew I wouldn't be turfed out of in a year. Also: the best way to stock a pantry (if I had enough space for a pantry). And recently: how I'd design the garden (had I a garden of my own) if I knew I'd live in the house it was attached to for long enough to see it through a growing season or two. Klaus, by the way, for all her caution and practicality elsewhere, would like to construct at her house—planning regulations be damned—a glass walkway from her window to the lawn (which I would get rid of altogether, obviously). Fantasy gardening might sound depressing, because of the implausibility implied by all those brackets, but of late it has become a refuge for me, especially in periods of change (which this is).

I should mention now that I don't like change. I acknowledge that this is a very stupid thing for a gardener-in-training not to like because gardens are all about change. Every Tuesday I go to Plant School (its official name) walk beneath the arch of the pergola wearing its showy coat of wisteria and I am struck by what is gone and what has come up in the gone thing's place. One week the Crayola yellow flower of the Jerusalem artichoke—Helianthus tuberosus—is reaching towards the sun and the next it has tipped, sot-like, over into the bed I weeded just last week. The weeds, of course, are back. They are always back. The quince has had its fleece removed, been mixed with fennel, cumin, fenugreek and mustard seeds, and turned into aachar by the former garden manager. I eat it, wincing, straight from the spoon before I've had anything else to eat at all. Last time I was here the white petals of Japanese anemone—Anemone x hybrida 'Honorine Jobert'—were prolific as polka dots but now only a few remain amongst the bobbing, tonsured heads of their friends. A small number of blue flowers from the leadwort—Ceratostigma plumbaginoides—are hanging on too but the petals' edges are withering like spinach left too long at the bottom of the bag.

I am glad my friend is moving and I am also very sad that she is moving away. We talk a lot about this kind of internal conflict. We talk a lot. We see each other a lot, too, at least once a week. Usually, we each have half a pint of cider and a portion of chips and we always ask for extra ketchup. Sometimes we do other things too. Sometime before the heatwave we walked around Clerkenwell, down to St Paul's and over the formerly wobbly bridge. We craned our necks at the Tate Modern peregrines —is it? I think it is. Maybe it's a pigeon. I'm pretty sure it's the peregrine. I think it's the peregrine. I'm just going into the pub for a pee. Okay, I'll be here. What do you think? Might be nothing. Might be nothing.—who were very well camouflaged against the tower's brick. We used to go climbing until I busted my knee.

Recently we have been meeting at one of our favourite pubs after Plant School and looking over the leaves and flowers of plants I have pressed. I have introduced my friend to the weird and wonderful world of plant fasciation. I have told her about what I'd like to plant at Klaus's house which has a garden at the front, small as a four-person dining table, and a marginally bigger one out back with raised beds for a border on one side and a hellish pit of sloped, compacted clay at the very front. I am getting off track, which is to say it is difficult to look this move in the eye.

In January on opposite sides of London, my friend and I made tarot spreads which told us about the year ahead. This month, October, my tarot deck told me, will be marked by avoidance. I defy my tarot on this count because every month of my life is marked by avoidance. I should have drawn the seven of swords as the 13th card, the one in the middle, the overall 'theme' of 2018. My friend and I have been saying We should probably talk about the way our relationship is going to change once you/I live somewhere else to each other for about a year, which is about how long I have had to ignore the reality of The Move.

But I'm not quite sure how to approach it. There is this thing that everyone says about grief which is that you can't plan for it. It's especially annoying because despite my best efforts it turned out to be true. When I knew grief was coming for me—which was either ten or two years ago, depending on how I choose to look at it—I thought, as I always do, well that might be true for other people but is sure as hell not true for me and I pulled a book from the shelf and began to read. I know she is persona non grata now, and for good reason, but I keep in a small room in my heart a short paragraph from Judith Butler's book Precarious Lives:

There is losing, as we know, but there is also the transformative effect of loss, and this latter cannot be charted or planned. One can try to choose it, but it may be that this experience of transformation deconstitutes choice at some level. I do not think, for instance, that one can invoke the Protestant ethic when it comes to loss. One cannot say, "Oh, I'll go through loss this way, and that will be the result, and I'll apply myself to the task, and I'll endeavour to achieve the resolution of grief that is before me." I think one is hit by waves, and that one starts out the day with an aim, a project, a plan, and finds oneself foiled. One finds oneself fallen. One is exhausted but does not know why. Something is larger than one's own deliberate plan, one's own project, one's own knowing and choosing.

And she is right. When grief did eventually come, I was convinced I was doing it wrong because I wasn't really doing… anything? Or rather, I was doing a lot—going dancing, learning to climb, I began gardening—but none of it seemed to really be about grief. And so I felt at a loss over my loss. And I suspect, when my friend leaves, which I am going to help her do tomorrow morning, I will also feel, in a different way, at a loss.



Becoming friends with Nell was a sea-change in my conception of friendship. I spent so much of my childhood mistaking the intentions of friends. I found the whole thing confusing, replete with unspoken rules that changed too quickly for me to keep up. I went about making friends all wrong, with humiliating results. In one particularly rough instance, I was stripped by a boy in my class in front of my classmates on the playing fields. Things are better now, but encounters like that can mould a life.

When we met in the old Jazz Cafe at Foyle's in 2014, I was still so reserved, cautious, untrusting, and nervous. But I was also newly out and had just started university; I was learning so many new things about the different ways one might understand the world and I desperately wanted to share them with someone. Nell made it so easy. She is the best question asker I know: she is unendingly curious, challenging, and extraordinarily smart (and she will kill me if I don't mention this: very, very, very tall). She has taught me so much about who and how I want to be in the world. With and from Nell, I have learnt how to be curious, intentional, conscientious, and careful in friendship as in life. I learnt (slowly) to turn towards her and, in turn, towards others.

When we did our respective tarot readings, the card I actually pulled as the 13th card was nine of cups. This is the card that signifies gratitude, balance, and harmony. These, too, are things that I have learnt best from and in tandem with Nell: how to balance your past experience with your contemporary reality, how to let go of things that no longer serve you. In all of those after work pub trips, walks across London, and languid Sunday mornings spent in each other's houses I think what we have been trying to unpick is that we are all of us simply, with the only skills with which we have been equipped, reacting to the world. And, at the same time, that each of us is able to learn new ways to react to the world that are truly useful to us. And this year I have been trying to find harmony with and learn how better to react to change—and where better than in the ultimate arena of change, the garden?

So during this changeful time, I am planning what and when to prepare, plant, and sow. In mid-November when my friend is back in London I'll plant tulip bulbs in the back garden so they'll poke their heads up in spring. I'll prune the roses to protect them from wind-rock. By the time of her next visit, in December, I'll have attacked the bed at the front of the garden, working organic matter and green manure into the soil to improve its structure in time for the spring. In January, I'll have sown the seeds of a lobelia I covet, blues and whites that cascade like foam from a box on the neighbour's window ledge. And with any luck, in February, crocuses might start appearing in little rings at the bases of trees. Things I don't know are there yet will rear their colourful heads and things will retreat back into the earth. And in our friendship, as in the garden, where what is gone—the ease of last minute chips in the pub after work—has gone, new things will come up in the gone thing's place (and I am so excited to find out what they are).
---
Header image: Japanese anemone—Anemone x hybrida 'Honorine Jobert' drawn by Klaussie Williams
Body image: Anemone x hybrida of some persuasion by me possibly in Seattle. We just don't know.